Making mods on an early Rambler Guitar…
Here is a story about Scott W. and his Rambler Travel Guitar. I met Scott in 2011 at the Atlanta airport while we were waiting for a flight home to Florida. Scott was carrying a normal sized guitar case and I had my nice little Rambler Professional Electric Travel Guitar. He was traveling every week for his job and carrying a big regular size guitar to keep up his chops for playing in his band. He talked about how hard it was to travel with a guitar and wanted to see what I had in my tennis racquet sized Strobel Guitars gig bag.
Scott was quite taken with my Rambler electric travel guitar because it looked like a real pro guitar and was impressed that it could be disassembled to fit in a briefcase for traveling. Scott visited our shop the following week and tried my Custom Rambler and some of the new (at the time) Rambler Classic travel guitars.He really liked the sound of the Schaller Golden 50 humbuckers in my Rambler Custom, and asked me to install a set in a Tobacco Sunburst Rambler Classic.
That weekend Scott played a gig with Split Image and opened the set with his new Rambler Classic Plus. The band was great and Scott was an awesome guitar player. Please check out the "Rock and Roll Fantasy" video in our gallery.
Scott recently got in touch and wanted to stop by the shop for a tune up.  Scott noticed the new Maple fretboards now available on the new STROBELCASTER Standard model. He lamented that his (early version) Rambler only had 20 frets and asked if he get one of the new 21 fret necks with Maple fretboard installed in his old Rambler? Our goal is Total Customer Satisfaction, so we made it happen.
The Maple fretboard necks were prototypes, but we found one to fit his original Rambler body. We also installed a Schaller tunomatic bridge and Graphtech string tees. I realized that Scott had not been taking full advantage of the locking tuners. The strings were snipped off a little long and the sharp ends were poking my playing hand. When Scott came to pick up the guitar I showed him how to string the guitar so the strings would stay tight (stay tuned for "How to tune a Rambler video…). 
Scott was really happy with the new neck and bridge, and was headed to a gig the next night with his updated Rambler.
While Scott was here, he told me about his many travels with his Rambler. People are amazed there is such a nice guitar in his little Strobel Guitars gig bag. He tells everyone if they want the best travel guitar, they should take a look at a Strobel Rambler Professional Electric Travel Guitar. He went on to say….
Scott talks about his Rambler Travel Guitar
"I have been extremely happy with my Rambler over the years. The guitar is not only very well made, but sounds fantastic with the Schaller Golden 50 pickups that Russ installed when I tested the guitar. They have the perfect amount of punch I need for the music Split Image does. The guitar goes with me each and every week I travel, and I travel EVERY week of the year for my job. I have been from California to Maine and all points in between over the last four years with my Rambler Travel Guitar. It is a great portable guitar, so easy to travel with due to the size. I can easily put the guitar in the overhead bin of the plane behind my briefcase and not take any extra room on the plane. Although the Rambler is designed to take apart for "briefcase style" transport, I don't take the guitar apart since I usually check my bag. I get asked all the time, "what kind of violin are you playing"? On many occasions I have opened the small gig bag case and people are amazed and intrigued to see a full scale length guitar".
"I recently contacted Russ to talk about some modifications I wanted for my Rambler Travel Guitar. He said come on over to the shop and we can discuss your plans. As a lead guitar player I wanted the guitar to have 21 frets instead of 20 like my original Rambler Classic. Just that extra fret can make a big difference when I use the Rambler onstage. (Note: all new Rambler Classic Travel Guitars now have 21 frets). Russ showed me some options including the new STROBELCASTER models with Maple necks. They felt so smooth and exactly what I wanted to do to the Rambler Classic. Russ took the extra time to make sure my guitar had a new neck installed along with a new bridge, setup and intonated, to be ready by my next gig in 10 days time."
"I arrived to pick up the guitar the day before my gig and I must say, I was blown away by the way the guitar played. I was always a fan of the guitar and the sound, but now with the new neck, it is one of my favorite guitars to play onstage. I get so many compliments on the sound and looks. I am extremely happy with the modifications and so grateful to have Russ work on my guitar. He really went the extra mile to make my experience great and I so much appreciate it."
Creating a Rambler Classic "Plus" Travel Guitar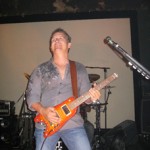 "Russ always told me when I bought the guitar to call him if I ever need anything. He means it. The whole entire customer experience is what makes his company special. He treats you as a Rambler family member from day one. So now we call the guitar the Rambler Classic Plus Travel Guitar. I have the confidence that if I ever need anything else modified on the guitar, Russ will accommodate my needs and work to make it happen. I look forward to another Custom Rambler in the future, I have a few ideas for Russ…."
Strobel Guitars builds on Russ' many years of Motorola experience. We embrace Total Customer Satisfaction and Perfect Quality as the most important foundations of a successful enterprise.
---