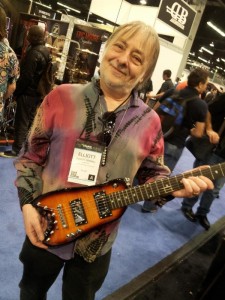 Greetings from Strobel Guitars! Last month was the annual music show extravaganza known as the NAMM show. The NAMM (National Association of Music Merchants) Show is the world's largest trade-only event for the music products industry. Strobel Guitars was there talking with our endorsers, suppliers and manufacturers.
Elliott Randall checks out a Rambler Classic Portable Guitar
The highlight of the show was meeting Elliott Randall from Steely Dan. Elliot was quite taken with our Rambler Travel Guitar and will be joining our great team of endorsers. Elliott's illustrious career has encompassed a wide and varied cross-section of World Musical forms. These include: record production, composition, electronic research and development, lectures and teaching, and of course, a legendary contribution to popular guitar performance and recording. His guitar solos on Steely Dan's "Reelin' In The Years" and "Fame" (the motion picture) have entered Rock history annals. What a thrill it was to see Elliott playing "Reelin in the Years" on his Strobel Rambler! Please check out the video below.
Josh Smith talks about the Rambler Travel Guitar
We also ran into our endorser, Josh Smith. With the 2009 release of his sixth studio album, "Inception," Josh established himself as one of the most versatile guitarists in blues music today. A South Florida native, Smith's love for the guitar began at an early age and his varying influences, including B.B. King and Muddy Waters, are reflected in the music he creates. We caught up with Josh at the EMINENCE booth where he told us a little about his experiences with his Strobel Rambler guitar. See what Josh had to say on our video page.
We took a few pictures at the show to give you a feeling for all the cool guitars you can see at a NAMM show. Check out our tour of the show on our gallery page. You will see some great guitars from Gibson, Fender, Tom Anderson, Trussant,and others.
Special thanks to GoldTone, one of the worlds leading manufactures of quality banjos, mandolins, and resonator guitars for helping to facilitate our NAMM visit.
---