Since we met at NAMM earlier this year, we've really enjoyed getting to know Elliott Randall and getting his thoughts on the Rambler Professional Electric Travel Guitar.
Below is a snippet from his review of the Rambler, in case you haven't seen it yet.
Below Elliott is trying out one of our first Rambler STROBELCASTER prototypes at the NAMM show…
Elliott Randall reviews the Strobel Portable Guitar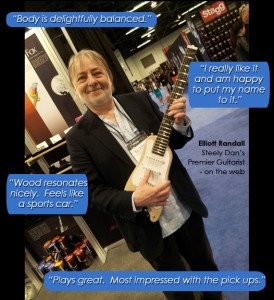 Oh, and if that isn't enough, it comes in a case about the size of a viola (so I wouldn't feel out of place walking into Abbey Road for a string session), it can be easily disassembled so that it fits into your …wait for it ….. computer bag!"
"Here's a most interesting twist on the concept of the "carry-it-anywhere guitar"… The back-end story: as an electrical engineer with Motorola, Russ Strobel did his share of traveling – and he always missed his guitar. So utilizing his exceptional engineering skills, he came up with a revolutionary new design for this totally delightful mini. Following extensive trials, I can say that it sounds great (sporting a pair of fab-sounding humbucker pickups), plays great (a lovely comfortable and resonant neck) – and  I couldn't help but notice how the wood of the body vibrates beautifully even when unplugged. That is a great sign. And with utmost respect, it's not a bad thing to call this instrument "cute". While it mightn't be out of place featured in the Hammacher Schlemmer catalogue (at a much higher price), it would be equally at home in the finest music emporia (for a most reasonable price). At the time of this writing, they are available from the Strobel Guitars website only.
Elliott's Guitar Tech talks about the Rambler Travel Guitar
And, we even got a great testimonial from Nigel (Elliott's guitar tech), so we thought we'd share his thoughts with you too…
"I think your travel guitar is great!!  I just did a little finishing of the frets for Elliott – a light fret dress to even the tops and I rolled the edges of the fingerboard to give it a vintage feel. This is something I find I do a lot for customers on guitars of all prices!!  I'll certainly have a think about any improvements you could make, but nothing springs to mind immediately.  Congratulations on a great little guitar!!"
Nigel Stockbridge
nigelsguitarworkshop.co.uk
---