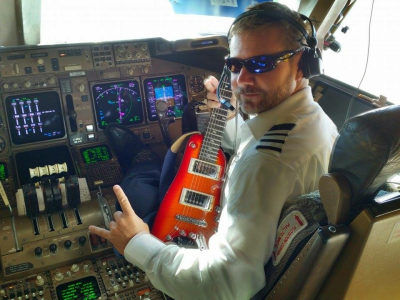 For all those ramblin' musicians out there, taking your instruments on the road with you can be difficult, especially for those trying to find the best travel guitar for airplane  transit. 
At Strobel Guitars, we believe that any "ordinary" travel guitar won't cut it. That's why we've dedicated ourselves to making exceptional portable guitars that aren't just convenient to travel with but that also offer the superior sound quality and playability you expect from any guitar, portable or not. 
When you buy a travel guitar from Strobel, you get a high quality, detachable headless guitar that doesn't compromise when it comes to playability and sound. As for why that's so important, keep reading to find out.
Choosing a travel guitar that's convenient for the air starts with choosing a quality product. That being said, you're not looking for the exact same things that you're looking for in a full-size guitar, and it's important to know the differences. Here are some additional specifications to keep in mind when you're shopping for a travel guitar instead of a standard guitar:
Portability. A great  portable electric guitar or portable bass guitar isn't just small — it's also designed specifically for travel. For example, our travel guitars feature removable necks and compact bodies so your guitar isn't taking up all of the room in your suitcase.
Weight. A big consideration with choosing the best travel guitar for travel is weight. A heavy guitar will weigh you down in more ways than one and could become a burden to lug around.
Playability. What's the point of having an easily portable guitar — or any guitar — if it doesn't play great? Playability and sound quality are key considerations with any travel guitar, and shouldn't be sacrificed for the sake of convenience.
As for how Strobel Guitars compare, we're proud to say that our guitars aren't just inherently portable and light (our  Rambler Classic Travel Guitar weighs under 5 pounds), but they're also as high quality as they come. It's big sound out of a small guitar, and a reliable companion for taking on the road and in the air.
If you're unsure about whether to invest in a travel guitar, keep this distinction in mind: a travel guitar is worth it when it's a good guitar on its own. A sub-standard guitar is a sub-standard guitar, whether it travels well or not.
At Strobel, we're musicians making guitars for other musicians. Our travel guitars are totally gig-ready and designed to do a whole lot more than just fit snugly in your luggage. Unlike most other travel guitars, we started with sound quality and playability and worked backwards from there, creating custom guitars that are effortlessly easy to take on the road. They're guitars that are worth buying whether you're traveling or not, but especially if you intend to take your guitar with you wherever you go.
Guitars You Won't Want to Leave Home Without
We're confident that we make the best guitars for travel, and we want you to discover the Strobel difference for yourself. Browse our website to learn more about our travel guitar collection, including the fan-favorite Rambler STROBELCASTER  and our completely optimized Rambler Travel Bass Guitar.
---