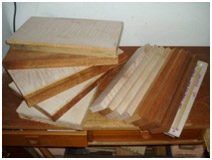 We select the finest tone woods for your Rambler® Custom travel guitar, usually Honduran mahogany or swamp ash for the bodies. We add a flamey maple top to brighten the sound and to enhance the visual appeal of the portable guitar. Necks are made from mahogany or maple, with an Indian or Honduran rosewood fret board. Dark ebony fret boards are also available.
After gluing the bodies, templates define the top and bottom body contours. Holes are drilled, cavities routed and necks and bodies are matched to ensure a perfect fit. The necks are shaped to your specifications, matching any neck contour you desire. The Rambler® Custom travel electric guitar comes with your initials inlaid in the fret board. Custom inaly is also available.
Other options include a piezo bridge with stereo output, on board pre-amp (for headphones), knurled or ebony tuning keys, gold hardware, or coil tapped pickups for a single coil sound.
After many hours of sanding and preparation, your custom built travel guitar goes to the spray booth where we apply over a dozen coats of nitrocellulose lacquer, with your choice of color. Guitars are then assembled, wired and set up to your specifications.
Don't wait to start designing your own custom Rambler® portable guitar. Choose from our selection of tone woods and custom colors, and enjoy the freedom of being able to play a professional high end custom guitar without the hassle of transporting a full-size axe.
---